Producers in ICF's priority regions are sensitized to the practice of deforestation-free cocoa farming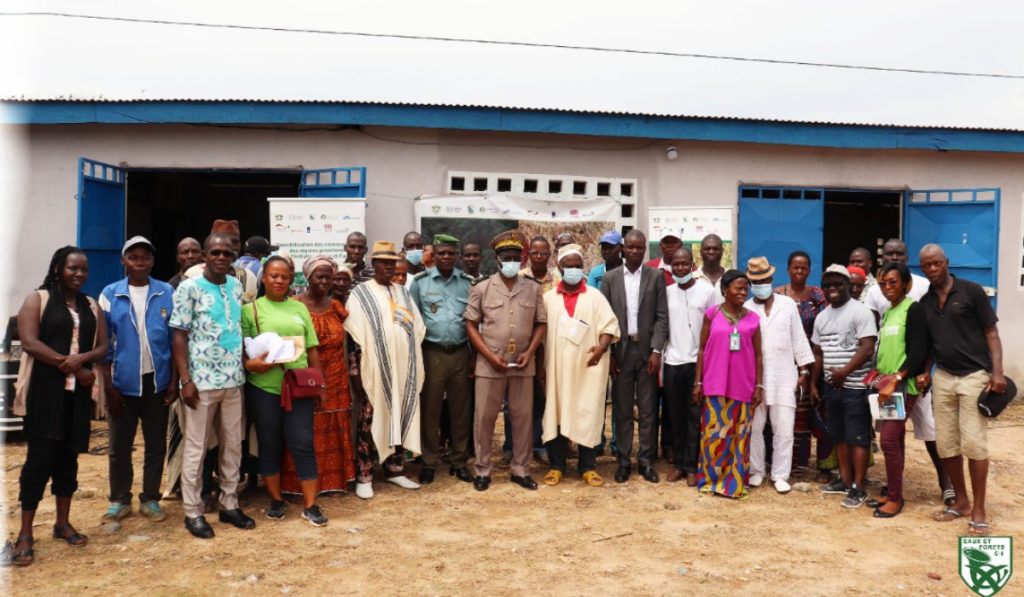 Our country has experienced over the years until recently, an excessive degradation of its forest cover. As a result, the Ivorian government, under the leadership of the President of the Republic, H.E. Alassane Ouattara, is committed to curbing deforestation due to cocoa farming by involving all stakeholders in this agricultural sector in the restoration of the national forest cover. Taking up their pilgrim's staff, ICF emissaries went to meet cocoa producers in the regions of San Pedro, Guémon, Cavally and Nawa.
The Cocoa and Forests Initiative (CFI), adopted in 2017, between the main cocoa-producing countries, in this case Côte d'Ivoire and Ghana, and 35 major chocolate and cocoa companies, representing 85% of the global cocoa trade, aims to end deforestation and promote forest protection and restoration within the cocoa sector. To enable local communities and cocoa supply chain actors to better understand the missions and objectives of the Cocoa and Forests Initiative, the NGO Initiatives pour le Développement Communautaire et la Conservation de la Forêt (IDEF) was selected by the Technical Secretariat to raise awareness among populations in priority areas. An outreach mission organized by the ICF Technical Secretariat took place in the regions of San Pedro, Guémon, Cavally and Nawa from February 22 to March 31, 2021, under the leadership of Colonel TRAORE Ynsa, Deputy Coordinator of ICF at MINEF. In order to carry out this activity of great environmental, social and economic significance, Mr. Traoré Bakary and Mr. Diédi Manféi Anderson, in charge of the coordination of the sensitization project at IDEF, and their team travelled to several cocoa production areas with Ms. Tessler Clara, Senior Project Manager of IDH (The Sustainable Trade Initiative).
The main message of the tour was to raise awareness of the Cocoa and Forest Initiative through its eight commitments revolving around the different themes of Agroforestry, Forest Preservation, Social Inclusion, Traceability, Financing and Monitoring and Evaluation. One of the key messages of the sensitization was: "With the Cocoa and Forests Initiative, let's protect the forest for a sustainable cocoa". Focus groups with the different communities allowed for frank exchanges with the ICF emissaries. The theatrical group Alma Production, through a sketch touching on all aspects of awareness-raising, led the population to take ownership of the ICF's objectives. Sports and cultural activities also helped raise awareness about the Cocoa and Forest Initiative and distribute communication materials to the population.
The populations of the localities of Scaf, Gabiadji, Moussadougou, Gnato, Para, Dogbo in the San Pedro region, those of Tahouaké, Guézon, Gbapleu, Semien, Ouyably-Gnondrou, Bagohouo in the Guémon region as well as Troya 1, Zagné, Pahoubly, Doké, Zéaglo, Banco in the Cavally region and Obrouayo, Oupayo, Djigbadji, Mayakro, Balékro, Sarakagui in the Nawa region mobilized massively to listen to their interlocutors.